Tweet
From Digital Spy.
An interesting opinion on solo albums from Coldplay frontman, Chris Martin. He also reveals some advice Bono gave him, which may explain why Coldplay is often compared to U2.
Martin: 'No plans for solo album, ever'
Saturday, April 3 2010, 11:06am EDT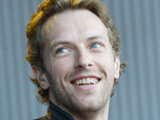 WENN
Chris Martin has claimed that if he released a solo album it would be "cringeworthy".
The Coldplay singer has insisted that he has no plans to ever leave his band because he doesn't think audiences would find him "acceptable" alone.
Speaking to Q, the 33-year-old said: "If Bono from U2 or I were to release solo albums they would be cringeworthy. It's still the same person singing but it's the gang aspect that makes you acceptable. If you take me out of the band, I can't dance or do what Beyoncé Knowles does. I'm only surviving on enthusiasm and collective chemistry."
Martin also revealed that Bono once advised him to sound a bit more like U2.
He added: "The best advice U2 gave us was, 'Sound a bit like us for a bit'. We tried it around X and Y. It worked out okay but we had to move off it pretty fast."